http://pxstudio.us/pdf/Certificate of Appreciation-presentation.pdf
http://pxstudio.us/pdf/Certificate of Appreciation_workshop.pdf
http://pxstudio.us/pdf/Ping Xu_Invitation-MCU.pdf
Professor Robert Gilbert and I led twenty UTRGV students for an English Camp in Taiwan from June 12 to July 12, 2017. Meanwhile, we also visited Ming Chuan University Taoyuan campus during the middle couple of weeks.
In the second day of our MCU trip, I did a presentation to MCU Department of Digital Media Design students on June 19, 2017. The presentation called "Be Bold in Design – Rethinking Design for the Future". The main ideas of the presentation were about specializing graphic designs in identity, print, motion, web and app through user-centered design, developing the new trend of visual communication, and involving critical thinking into the process of problem solving. Questioning everything and creating or promoting ideas and visual concepts through new graphic design media is a particular task that every contemporary graphic designer and visual communicator should do. Any experiment of graphic design in a new digital medium could be an inspirational and meaningful learning experience when a designers is learning new technologies and serving clients in the real world.
Prof. Robert Gilbert and I also collaborated a graphic design workshop with MCU faculty and students through June 20 to June 30, 2017 for MCU's 60 year anniversary.
Thanks to MCU's Chair of Department of Digital Media Design Dr. Agassi Chang's invitation, and Professor Pushu Teng's coordination, the presentation and workshop went effectively and successfully. It was a meaningful exchange activity between UTRGV and MCU. The visit will be a step stone for building a bilateral relationship between The University of Texas Rio Grande Valley (UTRGV) and Taiwan Ming Chuan University (MCU) in the near future.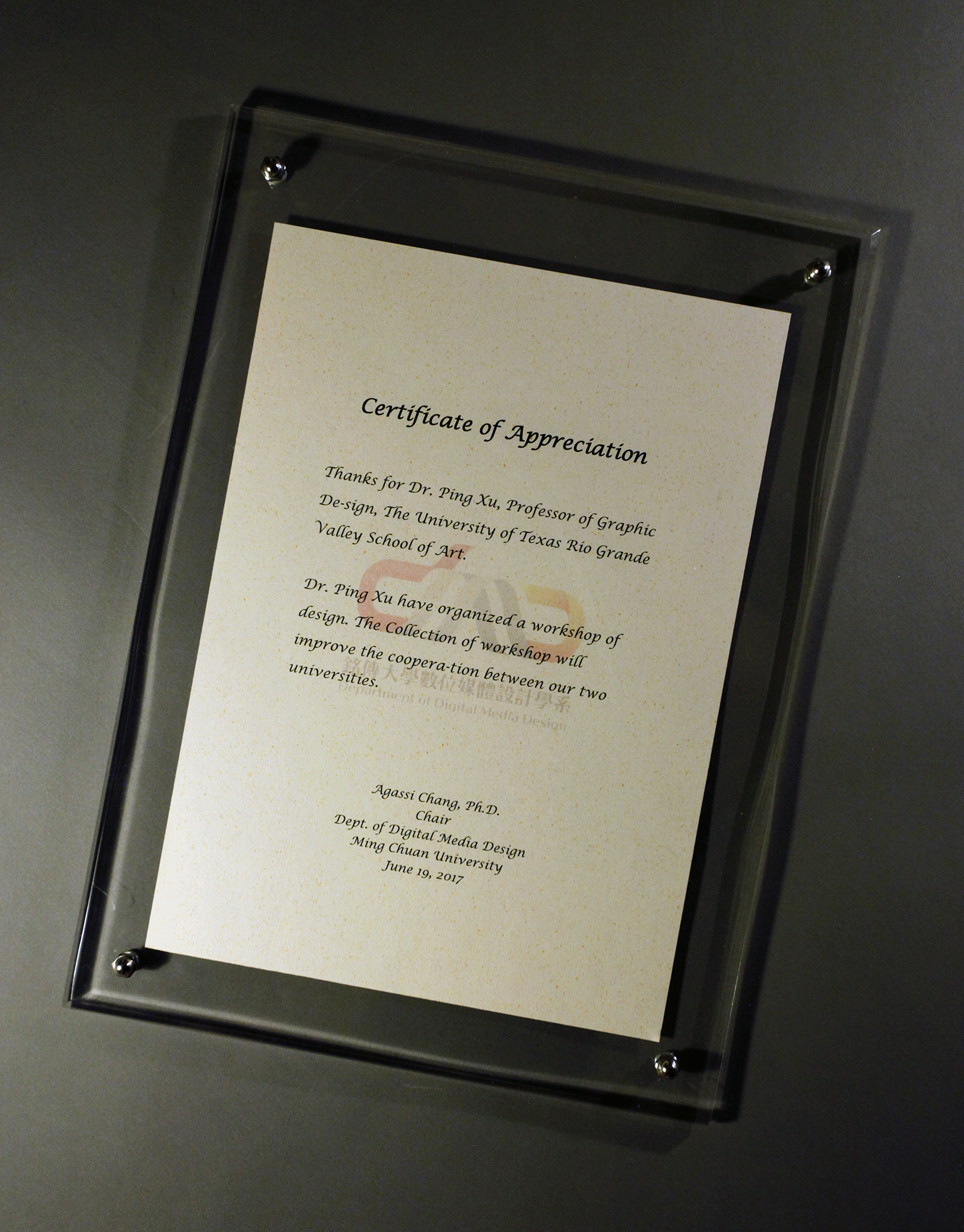 http://pxstudio.us/pdf/MCU_Certificate of Appreciation-17.pdf