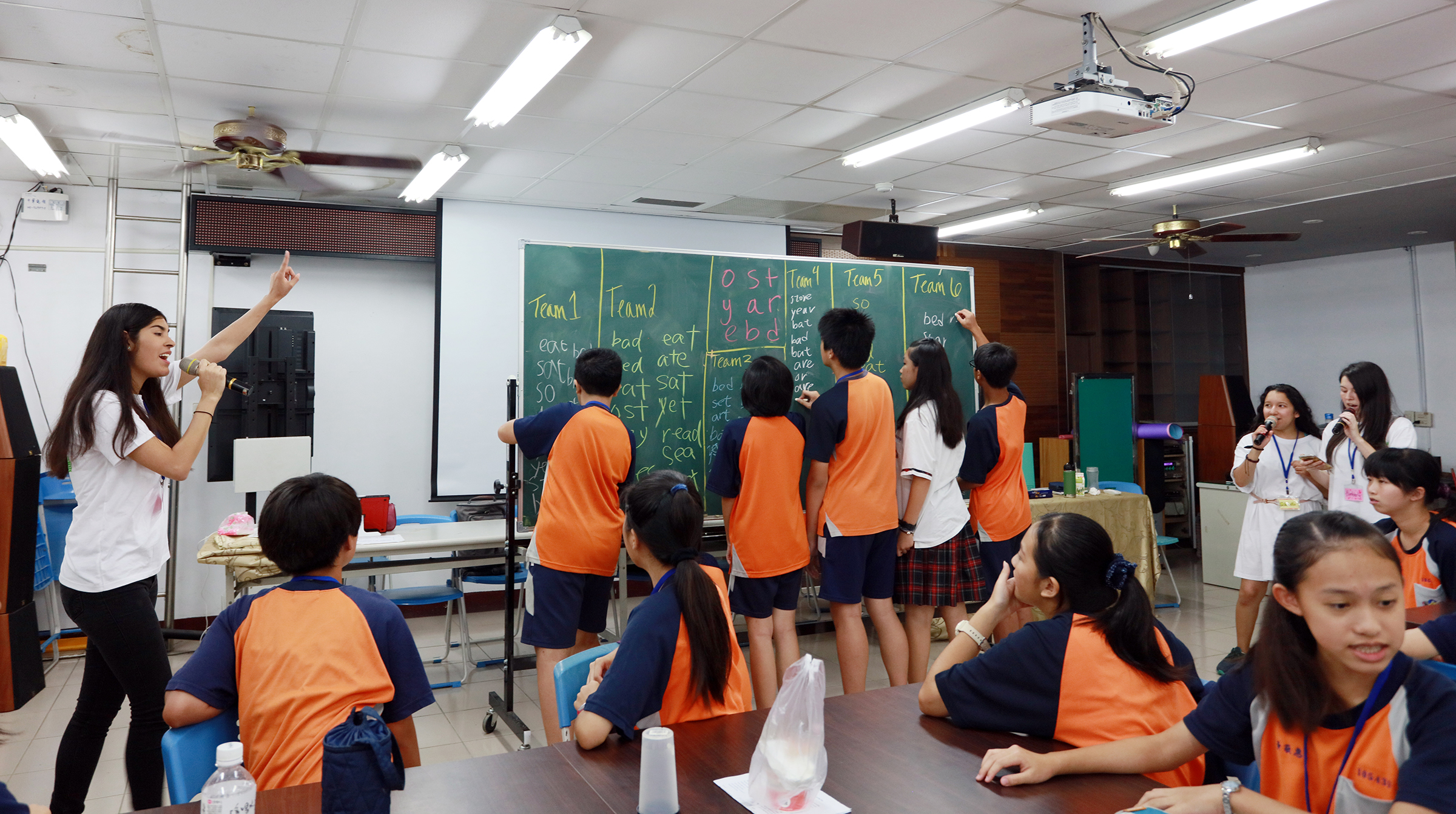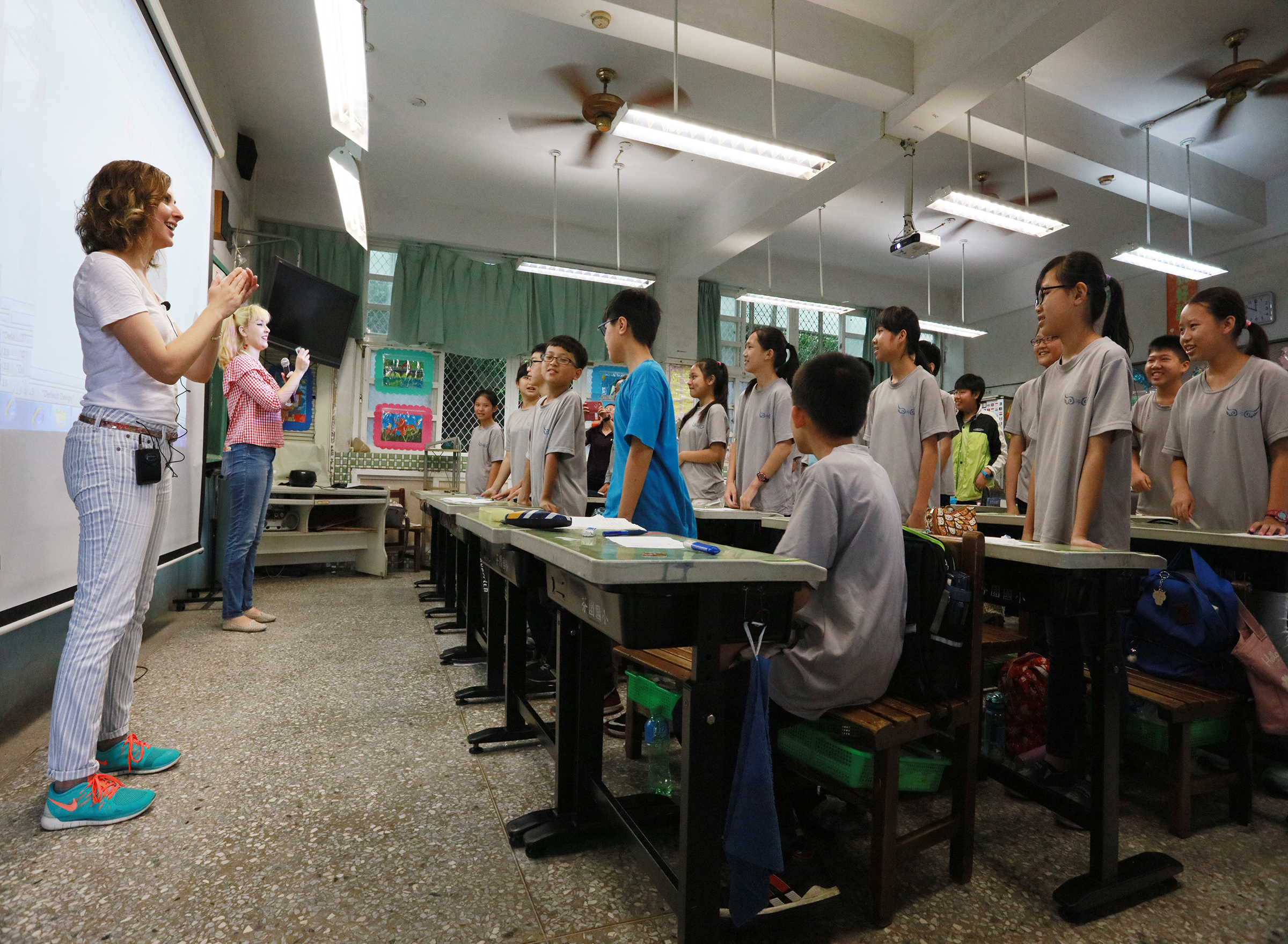 ---
Photo credit: Ping Xu
Photo Gallery: https://www.flickr.com/groups/utrgv-taiwan-english-camp/
Taiwan Summer English Camp – 2018
Date Range: June 23 – July 22 / 4 weeks
If you only join the Taiwan trip, and approved by the program coordinator, you need to book your round trip flight ticket [McAllen (MFE) – Taipei (TPE)] at priceline.com at your earliest convenience, and make sure to book your departure flight day on June 22, 2018, and arrive Taipei Taoyuan International Airport at the afternoon of June 23.
Position: English Teacher
Capacity: 20 English Teachers
Application Deadline: February 28, 2018
Job Description:
Teach local elementary school students and/or junior high school students English and American Culture.
Two hour morning class, and three hour afternoon class (lectures and outdoor activities)
Event Description:
The event is a collaborative effort of the faculty-led China Summer Study Abroad program of The University of Texas Rio Grande Valley and the Education Department of Changhua, Taiwan to promote understanding of Chinese culture within the UTRGV community as well as teach English and the American culture to youth in Taiwan.
The trip will be four week long, and students will travel to four different cities in Taiwan. Each week students will reside in one host family, and the host family will cover every student three meals everyday. During the weekend, students will be arranged excursions to the capital city Taipei and some national parks and beaches.
Target Audience:
Elementary Students: 11 – 12 years old
Junior High Students: 13 – 14 years old
Locations / Destinations:
Changhua (Yuanlin, Lugang)
---
Taiwan Trip Itinerary
6/23 Sat: Arrive Taipei

6/24 Sun: No Activities

6/25 M: English Summer Camp begins / Orientation

6/25-7/1: English Summer Camp: Period-1

7/2-8: English Summer Camp: Period-2

7/9-15: English Summer Camp: Period-3

7/16-18: English Summer Camp: Period-4




7/19 Thu Closing Ceremony of English Summer Camp




7/20-21: Excursion to Taipei & City Sightseeing




7/22 Sun: Taiwan English Camp Ends
Taiwan Trip Flight Info: http://pxstudio.us/blog/?p=31217
---
Training:

Before we begin the China trip, UTRGV English Department will offer a 4 hour training session for students who join the Taiwan English Camp.
Background Info of the Study Abroad Classes and Additional Trip in Taiwan:
For the Summer I of 2018, School of Art faculty Professors Ping Xu and Robert Gilbert will lead as one group, two study abroad classes to China. These classes are designed be taken by any major and do not have a prerequisite. After the completion of the trip, students can join an optional trip in Taiwan to participate in a four week English Camp. For the English Camp program, students will teach English to grade school students in the morning and afternoon. During each weekend, each host family will arrange some excursions to the beach and/or other travel attractions. All expenses are paid by the Taiwanese local department of education, including air fare from Shanghai to Taipei.
Arrangement:
A flight ticket from Shanghai to Taipei will be reimbursed by the local department of education.
Please purchase your flight ticket by yourself first, but please make sure to keep the RECEIPT of your ticket, your ticket and boarding pass for your reimbursement after you arrive Taiwan.
Accommodation and tourism charges and living expenses are for account of the local department of education.

2-4 people as a group to teach one week class in each school. (Total four schools for each student)
Students will reside in a host family (2-4 students per family).
The host family will cover students' daily meals and commuting between home and school.
All outside class activities will be arranged by the host family. Students should follow the host family's instruction.

The host families and local Department of Education will

arrange multiple excursions, including sightseeing in Taipei city and some national parks.
Background Info: http://wikitravel.org/en/Taiwan
Program Cost:
The program has no cost for students who are participating in the Faculty-led Summer Study Abroad China Program. The Education Department of Taiwan will reimburse your air fare (from Shanghai to Taipei), room and board, and all traveling expenses for the month of July in Taiwan. If you arrive to Taipei from McAllen directly, they will also reimburse you $300 USD.
If you decide to join the English camp in Taiwan, you should:
Download and fill out the personal information sheet online (served as the program registration form also), and inform the faculty leader at ping.xu@utrgv.edu
Book your departure international flight ticket from McAllen to Beijing on May 14, 2018

Book your flight from Shanghai to Taipei on June 23, 2018
Choose the returning flight ticket from Taipei to McAllen on July 22, 2018
If you joined our past China trip in the Summer I of 2017 but you didn't join the 2017 English Camp due to the capacity, you are welcome to join our 2018 Taiwan English camp. You should book the round trip tickets of international flight on your own expenses, and book the round trip ticket between McAllen and Taipei (A $300 USD reimbursement will be available based on your flight ticket and boarding pass). The China trip team will arrive Taiwan on June 30 as well, and we will meet together in Taipei Taoyuan International Airport. http://www.taoyuan-airport.com/.
Visa: https://www.taiwanembassy.org/ushou/
U.S. citizens seeking entry as tourists or visitors are required to present a valid passport that will remain valid for the period of intended stay. You must also possess a confirmed return or onward air ticket. As a U.S. passport holder, you will be allowed to enter Taiwan without a visa for up to ninety days if your passport is valid for more than 90 days. If your passport has less than 90 days of validity remaining, you will be able to enter Taiwan for a time equal to the expiration date of your passport. No extensions or changes of status are permitted. Taiwan authorities can deny a visitor entry if they do not have the appropriate travel documents for their onward destination. You also have the option of applying for and receiving a Taiwan visa prior to arrival in Taiwan. The cost including the processing fee is US $164.00.
Please contact the Taipei Economic and Cultural Representative Office (TECRO) in the U.S. for the most current visa information:
Normally UTRGV Study Abroad Office will hire an agent to apply the China visa for you in Houston, but you don't need a visa to enter Taiwan if your Taiwan trip is less than 90 days. If you don't have a U.S. passport, please stop by your nearest Post Office to apply one.

Insurance:
We would suggest that you could extend your International SOS Insurance Program after your main trip in China, and cover the period of your stay in Taiwan. https://www.internationalsos.com/
If you joined the China trip previously, and would like to join the Taiwan trip at this time only, please purchase your insurance for covering your international travel in Taiwan.
Course Credit:
If you would like to take course credit through the Taiwan trip, you should contact the Student Abroad Office (IPP Office) and your advisor. UTRGV may count your Taiwan trip for course credit for an internship class.
Application Material:
Per Changhua Department of Education's request, students' information including their personal resume, Taiwan English Camp online registration form, and each student's photo page of passport will be collected and will be sent to Taiwan immigration service. Please email the program coordinator those items if you confirm to join the English Camp. Before sending those materials, each student who would like to join the Taiwan trip has to meet the program coordinator in person.
Contact information:
Program Coordinator:
Prof. Ping Xu
VABL 1.209
956-777-1126,
ping.xu@utrgv.edu
Study Abroad Office {Office of International Programs & Partnerships (IPP)}
ipp@utrgv.edu
---
Special Report
Students captured youngsters' hearts – and vice versa – when teaching English in Taiwan
UTRGV Study Abroad Taiwan Press Release | September 7, 2017
http://www.utrgv.edu/en-us/student-experience/study-abroad/2017/september-7-students-captured-youngsters-hearts-and-vice-versa-when-teaching-english-in-taiwan/index.htm
---
FYI: Flight info for 2018 Taiwan Trip
http://pxstudio.us/blog/?p=31217