The U.S. Department of State's Benjamin A. Gilman International Scholarship is a grant program that enables students of limited financial means to study or intern abroad, thereby gaining skills critical to our national security and economic competitiveness.
The Gilman Scholarship Program is open to U.S. citizen undergraduate students who are receiving Federal Pell Grant funding at a two-year or four-year college or university to participate in study and intern abroad programs worldwide. Funding is up to $8,000 for undergraduate students with financial need.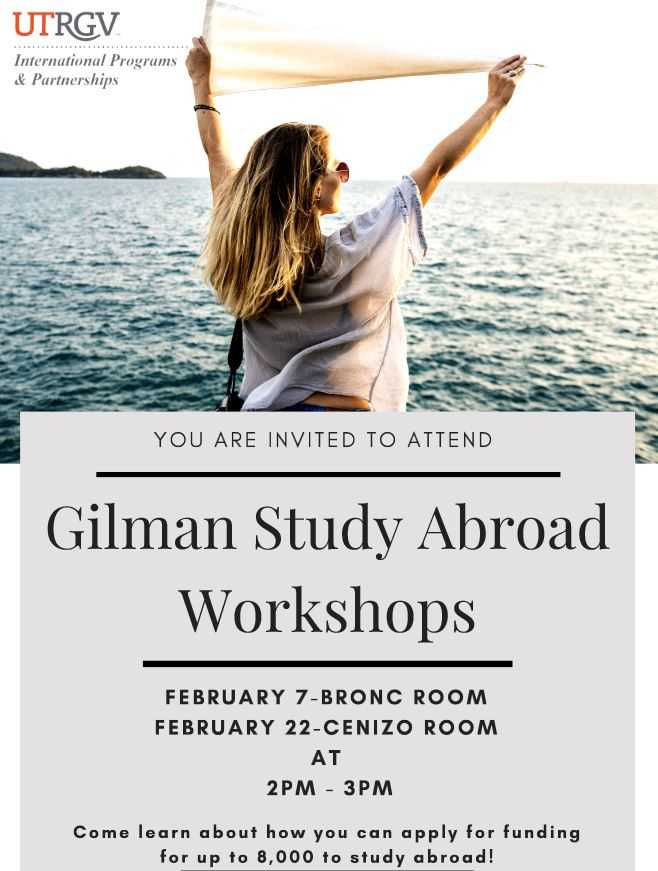 http://www.iie.org/en/Programs/Gilman-Scholarship-Program#.WD9niZLoz0G
We would like to take this time to highlight funding available for Study Abroad students, through the Gilman Scholarship.
Application Deadline:
The application for study and intern abroad programs for Summer 2018 is now open! The student application deadline for the Gilman Scholarship is Tuesday, March 6, 2018 at 11:59 Central Standard Time (CST).
Keep in mind that although the most challenging requirement for Gilman application is the 4 week abroad requirement, this can be satisfied combining two courses. The China trip will last 5 weeks in mainland China. It will help you to apply the scholarship, and to get $2,000-$8,000 Gilman Scholarship as student who joins China trip is required to take an art course and a Chinese language course in China.
In the Spring 2017, there were four UTRGV students who joined China trip received Gilman Scholarship ($2,000 – $5,000) from the Department of State. We hope that UTRGV students from our China trip pool could receive more Gilman scholarships at this time. UTRGV IPP Office will be hosting a workshop for students in both Edinburg and Brownsville campus. We encourage you to participate this workshop. Should you have any questions, please contact the IPP office at lizette.leal01@utrgv.edu as Lizette will be the campus representative for Gilman.
Should you have any questions about Gilman, please let us know (lizette.leal01@utrgv.edu) how we can be of further assistance.
UTRGV School of Art: Prof. Ping Xu ping.xu@utrgv.edu