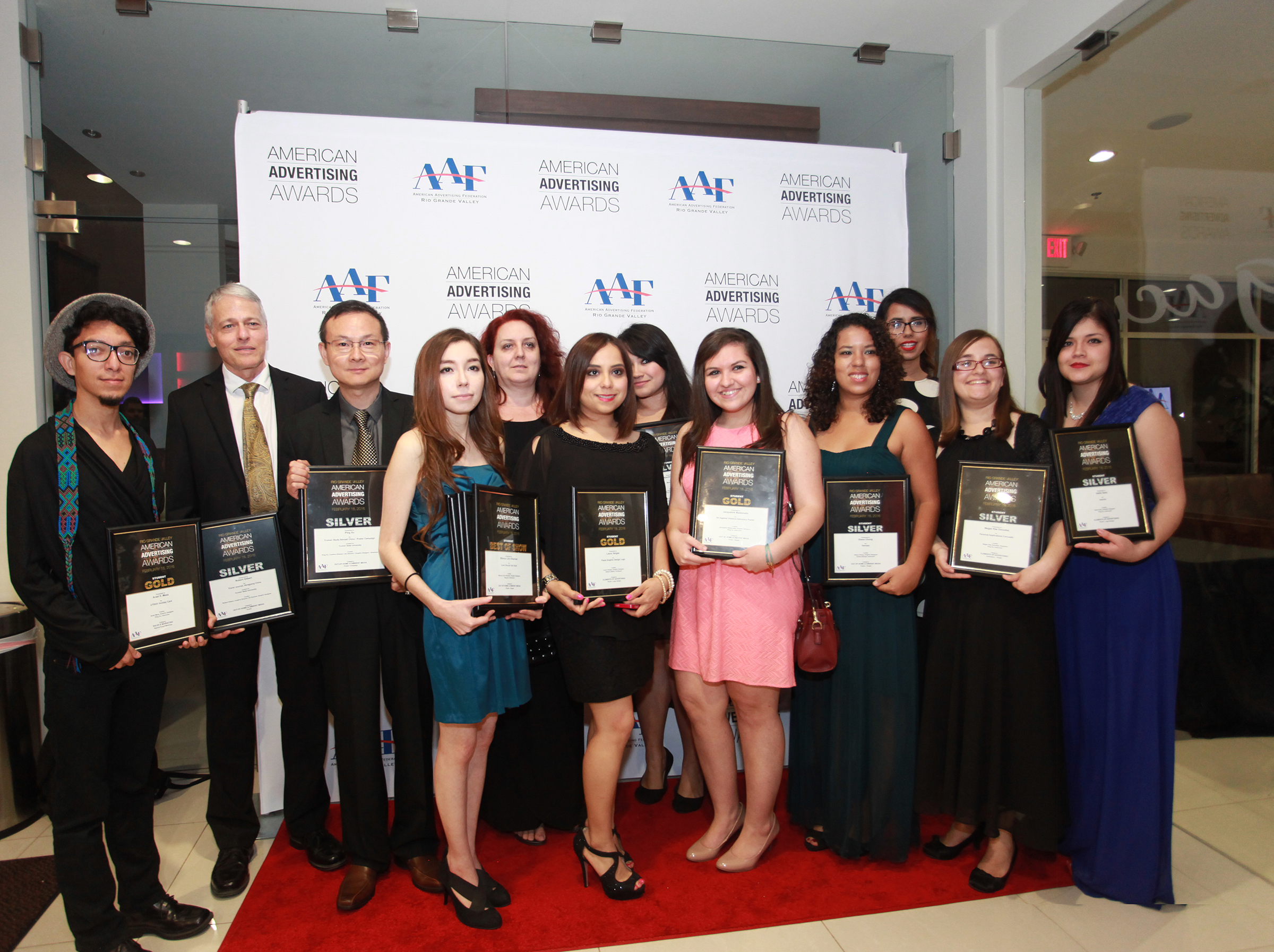 Edinburg, TX – It gives us great pleasure to announce that graphic design majors from The University of Texas Rio Grande Valley won the Best of Show Award, seven Gold Awards and ten Silver Awards on Thursday, Feb. 18 at the 2016 American Advertising Awards at the Legacy in McAllen, Texas.
The American Advertising Awards is considered the world's largest and toughest advertising competition, and American advertising industry's largest and most representative competition attracting over 40,000 entries every year in local AAF Club (Ad Club) competitions. Hosted by the Rio Grande Valley chapter of the American Advertising Federation, the Gala and presentation of American Advertising Awards 2016 of AAF Rio Grande Valley was held on Thursday, February 18 at 6:30 p.m. at Legacy, McAllen, Texas. This is not only a way for our students to meet professionals in the field, but a way for the advertising community to know about the quality graphic design program here at UTRGV School of Art.
Overall award winners included Arael Meza of Edinburg, Texas; Alejandra Alfaro of Edinburg, Texas; Belinda Gonzalez of Mission, Texas; Blanca Villarreal of Edinburg, Texas; Idalia Soto of Hidalgo, Texas; Jacqueline Maldonado of Brownsville, Texas; Ruben Elizalde of McAllen, Texas; Isabella Hernandez of Mission, Texas; Megan Gonzalez of Palmview, Texas; Diana Chong of McAllen, Texas; Laura Vargas of Edinburg, Texas; Yasmin Villarreal of Edinburg, Texas; and Deyla Lerma of Edingburg, Texas.
Gold award winners/entries:
Arael Meza

/ UTRGV Holiday Card

Belinda Gonzalez

/ Art Against Violence Poster

Blanca Villarreal

/ Self Promotion Package

Blanca Villarreal

/ Art Against Violence Poster

Blanca Villarreal

/ American Dream Poster

Jacqueline Maldonado

/ Art Against Violence Poster

Laura Vargas

/ Paola Logo
Silver award winners/entries:
Alejandra Alfaro

/ MonaVie Logo

Blanca Villarreal

/ Iguana Vector Illustration

Diana Chong

/ American Dream Poster

Idalia Soto

/ ISASOTO Logo

Isabella Hernandez

/ Valley Christian Magazine

Jacqueline Maldonado

/ Austin City Limits Music Festival BRM

Megan Gonzalez

/ Personal App's Icon

Ruben Elizalde

/ Arkitekt Logo

Yasmin Villarreal

/ American Dream Poster

Deyla Lerma, Jose Quintanilla, Blanca Villarreal, Jessica Gonzalez and Mildred Olavarria

/ The American State of Mind – Invitation
---
Student AAA – 2016 Best of Show Award:
Best of Show – Student Award Nominations 2016:
---
Student AAA – 2016 GOLD Award:
Belinda Gonzalez

: Cockfighting Poster / Art Against Violence – Advocacy Poster Poster:
Work produced from the course: ARTS-3331 Visual Communications / Fall 2015
Instructor: Ping Xu

Arael Meza

: UTRGV Holiday Card 2016:Work produced from the course: ARTS-3331 Visual Communications / Fall 2015
Instructor: Ping Xu

Blanca Villarreal

: "Love Should Not Hurt" / Art Against Violence – Advocacy Poster
---
Student AAA – 2016 SLIVER Award:
---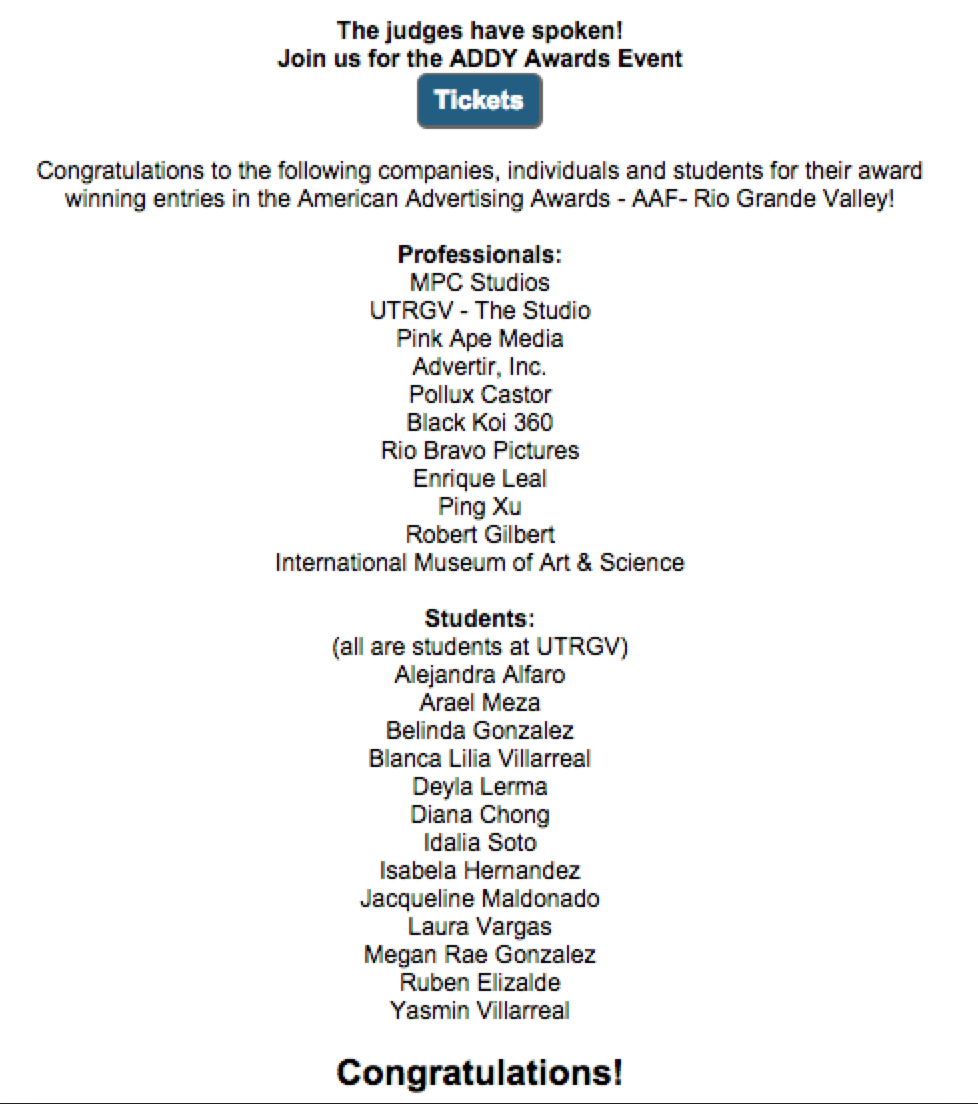 http://aafrgv.clubexpress.com/content.aspx?page_id=22&club_id=899663&module_id=172065