Render a 1920 X 1080 HD Video – Ready for Vimeo (Use Adobe Media Encoder CC 2014 to add your video, and choose Vimeo's preset) 1080p / 23.976 fps

Render a 1280 X 720 HD Video – Ready for Flickr 720p / 23.976 fps or 29.97 fps

Render a 1280 X 720 FLV (Flash Video) through After Effects CS6
Before you render your video, make sure your project folder contains every linked item. When you due your project, remember to relocate all your project file, footage, sound files, psd/ai files, font files, and effects TOGETHER. Otherwise, you need to relink every missing footage and item in After Effects: Control Click or Right Click the missing file: Replace Footage > File.
https://helpx.adobe.com/after-effects/how-to/find-missing-footage-fonts-aftereffects.html
If you still get a big file after you render an H.264 video, you may import the video to Premiere CC, then you can choose the High Profile H.264 setting instead of Main Profile when you re-compress the video in Premiere.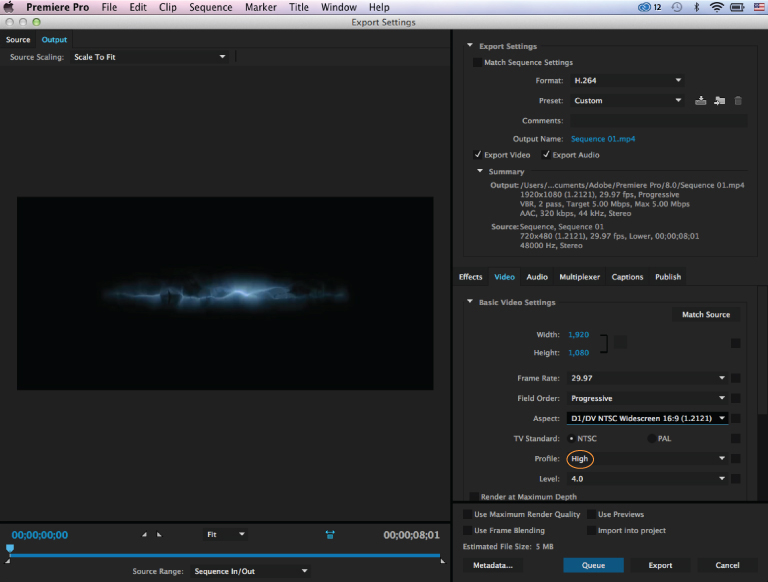 You may also visit the following links for solutions:
https://vimeo.com/help/compression
http://www.learningsolutionsmag.com/articles/1203/video-compression-secrets-smaller-files-better-quality
December 9 (Tuesday) will be our final examination day. It is scheduled between 11:30 a.m. and 1:20 p.m.. We will meet at this time to terminate our final project.
What to due on December 9 (Check List):
Creative statement of work (pdf file)
Shrink your original creative statement to one page. The updated short statement (approximately 100 words) should briefly tell:
– Theme of the infographic
– Frame concept
– Data collection
– Graph style
– Target audience
– Educational goal
After Effects project folder (with all linked elements)
FLV file (if you're a Adobe CC user, you may copy your mp4 video to school computer, import it to After Effects CS6, then render a FLV file)
H.264 (1920 X 1080) QuickTime 1080p HD video
H.264 (1280 X 720) QuickTime 720p HD video
• Submit your project folder, and name the folder by your last name and course title:

smith_p5_a-341