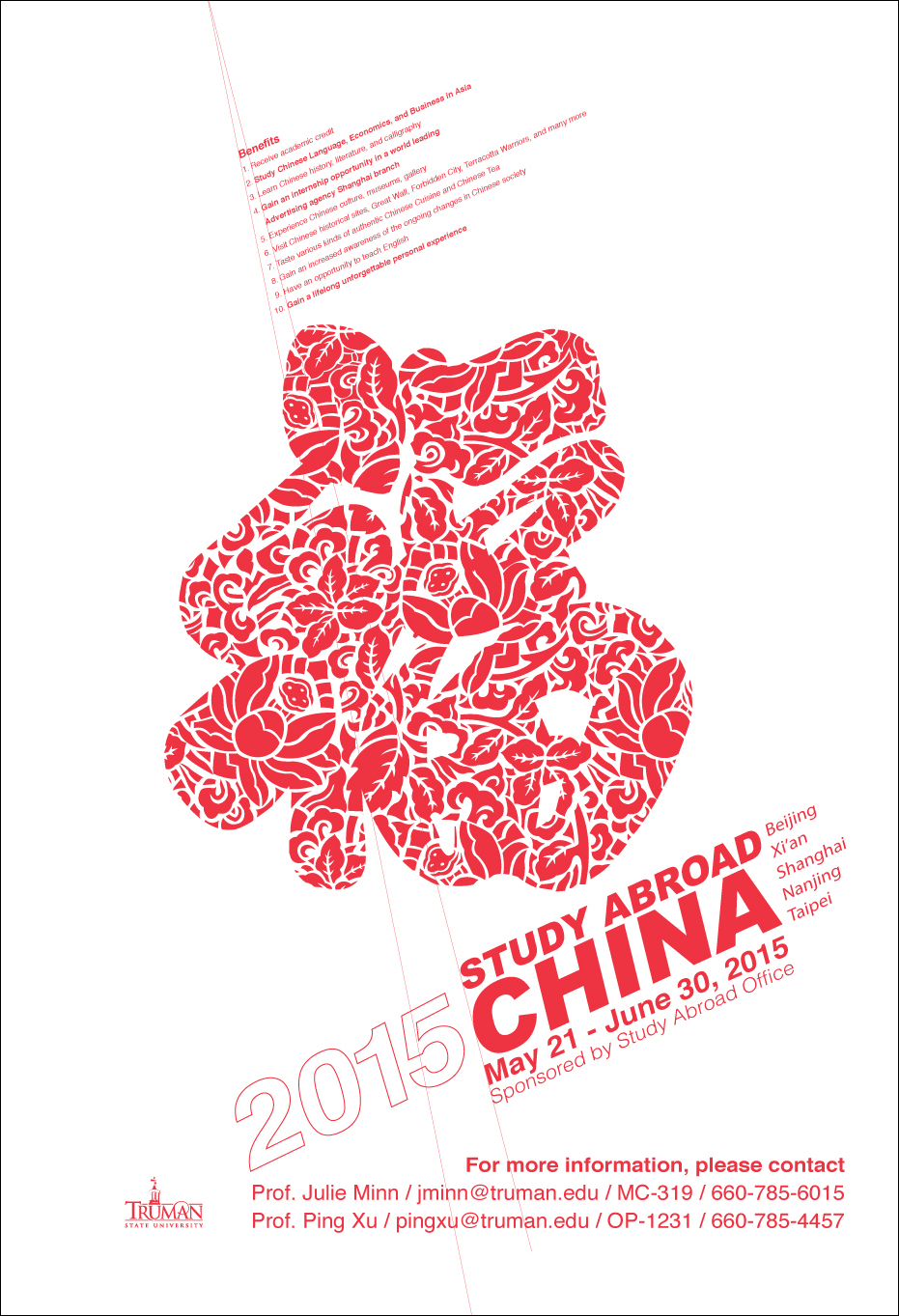 Summer Study Abroad in China – 2015 | May 21 – June 30, 2015
Summer Internship in Shanghai – 2015 | June 1 – July 3, 2015
Summer English Camp in Taiwan – 2015 | July 1 – 31, 2015

http://pxstudio.us/study-abroad.php
http://pxstudio.us/internship.php
Program Description:
It is a six-week summer study program at Beijing, Xian, and Shanghai, China. Students may participate without prior knowledge of Chinese.
The program is providing:
Chinese Language: offered all levels
Culture instruction: include Chinese culture, Chinese history, Chinese literature and Chinese calligraphy
Chinese business class : focus on Chinese Economies and Business in Asia
Internship for art department's viscomm students: focus on internship at world leading advertising agencies  in Shanghai.
Language course is optional course for Business students and Art students.
The students will be award for six to seven Truman credit hours. The art students will be awarded five or six Truman internship credit hours.
During the first week of the trip, students will tour the Chinese capital city, Beijing; the Great Wall, the Forbidden City, the Summer Palace, National Opera House, Tiananmen Square, and sites of Olympic 2008, and visit an ancient city, Xian: Terra-Cotta Worrier museum, Famen Temple, Huaqing Hot Spring and Dayan Pagoda and Ancient City Wall. Students will also visit Shanghai Museum, art gallerias, Huang-Pu River Cruise and Garden City-Suzhou, ancient capital city Nanjing and many other field trips while study in Shanghai University.
Students will gain knowledge of the language and culture and also will experience personal contact with the Shanghai University students and Chinese common people and their daily life.
Shanghai is the largest city in China, and one of the largest metropolitan areas in the world, with over 22 million people. Located on China's central eastern coast at the mouth of the Yangtze River, it is the economic center of China and one of the trading centers of the world. The city is administered as a municipality of the People's Republic of China with province-level status.
As the partner school of Truman State University, Shanghai University is a public, comprehensive university located in Shanghai, China. The University consists of 21 colleges and schools and 2 independent departments, offering 58 undergraduate majors, 86 Master's degree programs, and 20 doctoral degree programs. The University has high quality faculty and a large group of experts and professors who are famous in academic fields. The University enrolls more than 38,000 full-time students. Its campuses cover an area of over 160 hectares.
Accommodations:
Students reside in on-campus international students dorms which is equipped with air condition, TV, Wifi, tables, chair, and bed in a single bedroom with bathroom. Several cafeterias on campus are available for students. McDonalds and Starbucks are near the campus as well.
Cost for the Program:
Around $5,835 (Approximately) plus Truman State University tuition (6 credits)
The cost of program will include:
International round trip air ticket
Shanghai University tuition, Books, room at Shanghai University
Weekend field trips in Shanghai and to Nanjing, Suzhou, and more
Meals and hotel in Beijing, Xian (or an alternative city) plus entry fees to most sites in Beijing, Xian; transportation in Beijing, Xian, and from Xian to Shanghai and insurance.
Benefits:
Receive academic credit or internship credits
Study Chinese Language
Study Chinese Economics and Business in Asia
Learn Chinese history, literature, arts, and Chinese calligraphy.
Experience Chinese culture, museums, gallery and historical sites.
Gain an increased awareness of China and Asia business and how the China and Asia economy and business and world economics and business affect each other.
Gain an increased awareness of the ongoing changes in Chinese society.
Gain an increased awareness and understanding of the Sino-American relationship.
Gain an internship opportunity in a world leading advertising agency Shanghai branch.
Gain a 100% cost-free trip (cover the flight ticket from Shanghai to Taipei, and accommodations) in Taiwan if you prefer to teach elementary students English in Taiwan.


(an extra 30-day trip in Taiwan after the main trip in mainland China)
Eligibility:
No previous Chinese language or Chinese knowledge is required. All levels of Chinese Language will be offered at Shanghai University.
Financial Aid:
Financial aid and/or scholarship funds received through Truman State University may be applied to this program. Please contact the Financial Aid office (MC103), Center for International Education (KB114) or the program director, Julie Minn for further information.
Contact Information
Program Director : Prof. Julie Minn, MC 319, 660-785-6015, jminn@truman.edu
Adviser in Art Department : Prof. Ping Xu, OP1231, 660-785-4457, pingxu@truman.edu
Center for International Education, Study Abroad Office, KB114. 785-4076
The travel schedule and places within China could be changed under the agreement of the whole group.